250.210
Standard-Duty Tool Changer Grippers
Enlarge Image
HSK-A/E/F 63 and SK 40 Taper (29mm height) gripper
Standard duty grippers are injection molded or machined from specially formulated high-strength fiber reinforced plastics. HSK40 and HSK63 grippers are available from stock for quick delivery.
Related
Available for Steep Taper 30, 40, 50, and 60. Includes padded storage case.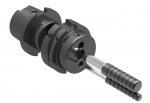 Available for HSK-A 25, 32, 40, 50, 63, 80, 100, 125, and 160. Includes padded storage case.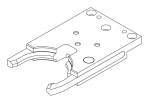 Heavy duty grippers are designed for demanding applications and where total cost of machine ownership is considered (individual components are replaceable). These grippers have a pivoting finger that allows tool holding force to be adjusted by changing the internal spring. In addition, this unique design minimizes wear on the tool holder.