Rotary Unions
Depending on the type of union, operating speeds ranging from 3,000 to 30,000 rpm with pressures up to 3,000 psi are possible. A number of models also have the capability to run dry if required. Custom-designed unions are also available.

In addition to a standard product line, we also offer rotary unions that are interchangeable with common rotary union products used in the machine tool industry. High quality and long service life make our rotary unions an excellent replacement part choice.

We provide application-engineering services for rotary unions and stock common replacement unions in Rockford, IL. Contact us for more information.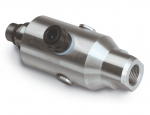 The unions of the models A and B are used for the passage of coolant through the machine tool spindles rotating at high speed. Well balanced seal assemblies model D, in tungsten carbide against tungsten carbide allow a low friction torque and long life even with a poor filtration of the coolant.
The unions for the models A and B have been designed for machine tool spindles rotating at high speed with fluid passing through or dry when needed. The seals, balanced and microlapped, remain always closed without problems both with fluid passing through (wet run) or without fluid (dry run).
The unions of model C are used in applications with high pressure and high rotation speed. A special double row bearing and the balanced sealing allow to operate at high pressure without any problem. Model D (heavy duty) seals in tungsten carbide to tungsten carbide, are microlapped for low friction. All the parts in contact with the fluid, made in stainless steel, allow to use the unions with many different fluids including water.