Global Replacement Parts Service

If you need a part from Europe or Asia, we can help!
Any part, any manufacturer
When you're looking for a part from a European or Asian manufacturer that you've never heard of, we can help. While we don't directly represent every company, we can supply virtually any component from any manufacturer through our global logistics network.
Quick, easy, and at the right price
If you use machinery or equipment made overseas, you've likely experienced the hassle and expense associated with obtaining replacement parts. We can help you avoid the time-consuming task of finding a supplier and purchasing the part, or the high prices and long lead times from machine or equipment manufacturers. With Transatlantic Connection, there are no language and cultural barriers to deal with, no international shipping problems, no difficulties with customs clearance, no hassle with payment in a foreign currency, and no unexpected costs.
No surprises
Our prices are FOB Rockford, Illinois. They include all manufacturer charges, international shipping costs, customs clearance, and duty expenses. In addition, we handle all international shipping paperwork and details. There are no hidden or unexpected costs!
Get the right part
Transatlantic Connection supplies replacement parts from the same manufacturer as the original part, not substitute parts. You can be confident that you will receive the right part.
Save time and money
Getting parts from Transatlantic Connection is generally less expensive than from other sources such as the machine or equipment manufacturer, and is typically faster because of our efficient shipping channels. You'll be surprised at your savings in time and money.
Knowledgeable people To help you work through those foreign nameplates and manuals when trying to identify a part, many of our employees speak multiple languages. In addition, our employees have significant technical experience with machine components and their manufacturers, so they will understand what you need.
To request a quote on a specific part
Give us a call at 815 962-4500
Use our request form to fax over your request
Also, take a look at the list of companies we have worked with and our FAQ page below.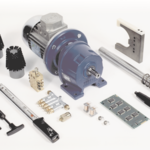 A list of companies from which Transatlantic Connection has recently obtained parts. Of course, our services are not limited to this list!