Tool Changing Systems and Components
For companies building rack style tool changers or for custom applications, we offer standard tool changer components. Please contact us if you don't see exactly what you're looking for -- we can easily offer custom solutions as well.
We offer tool changers for all types of machining applications, including new machining centers and retrofit/rebuild of existing machines.

Tool changers are available for all tool standards, including HSK-A, HSK-E, and HSK-F 25, 32, 40, 50, 63, 80, 100, 125, and 160 as well as steep taper 30, 40, 50, and 60. Most tool changers we supply are customized to a customer's specific requirements, so please don't hesitate to contact us if you don't find exactly what you're looking for here.
Our heavy duty grippers are ideal for heavier tools or where a robust gripper is desired. This gripper is available with single and dual articulated fingers. Grippers for HSK-A/E/F 63 and 40 steep taper are available from stock. Our locking grippers are ideal for applications requiring an extra degree of security (unusually heavy tools, etc.) The standard gripper unlocks mechanically when the spindle accesses the tool, but optionally can also be released using a pneumatic or electric actuator.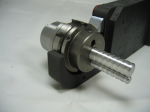 Tool changer alignment gauges are used to check automatic tool changer positioning between the gripper arm, magazine, tool holder, and the spindle. Improper alignment results in abnormal wear on spindle and tool holder tapers, faulty clamping, dropped tools, and decreased machine repeatability--resulting in reduced productivity and expensive machine damage. Tool changer alignment gauges from TAC Rockford make correct alignment between the spindle and automatic tool changer easy.