466.800
Steep Taper Standard Ball-End Runout Test Arbors
For verification of 5-axis steep taper spindle machining centers
Ball end spindle runout test arbors are designed checking positioning accuracy of 5-axis machines, but can also be used in place of a standard runout test bars when a shorter length is required or for a touchoff point from the spindle face (ball end is ideal for this purpose).
Ball runout to taper ≤0.010 mm (0.0004"), with a ≤0.002 (0.00008") runout shaft below for checking axial runout.

Arbors do not include a carrying case. Visit our carrying case options page for gauge crib upright storage, travel, and customized carrying case solutions.

A certificate of accuracy is included.
Gauge length is measured from the tool holder gauge line to the end of the ball.

Other steep taper standards and sizes as well as different gauge lengths and ball diameters are available. Contact us for more information.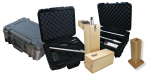 Whether your gauges need to be transported on a frequent basis, or need to be stored in one area for a period of time, we can offer a reliable solution.
One of the leading causes of tool breakage, part finish issues, tolerance control, and machine registration issues is excessive spindle runout.
Related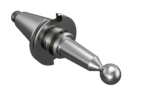 Ball-end arbors are typically used on 5-axis machining centers, but can also be used in place of a standard runout arbor if ultra-precision is required.