462.A00
ForceCheck Steep Taper (ISO) Drawbar Force Gauges
For measuring drawbar retention force on steep taper (SK-ISO) spindles
Measuring bars, complete sets, and base units for measuring drawbar force on a Steep Taper (SK) ISO standard spindle.
The display is universal and can be used on multiple ForceCheck adapters.
Sets include display readout unit, connecting cable for wired unit, and carrying case. Measuring bars, adapters, and other accessories are ordered separately.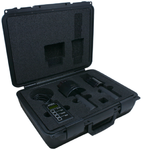 Depending on what gauges you need to keep together, TAC Rockford offers various carrying case configurations.
Related