495.245
ForceCheck Workholding Collet Force Gauge
ForceCheck collet force gauges provide a quick and easy way to check force on collet workholding systems.
Applications for ForceCheck workholding collet force gauges include:
Comparison of holding force between machines, allowing for consistent and repeatable production results regardless of mechanism (manual, hydraulic, or pneumatic)
Periodic verification to assess if preventive maintenance is needed
Establish correct holding force for running a particular part or job
Determine optimal holding force for thin-wall, rings, and other parts sensitive to damage or distortion when machining
A sensor is needed for each diameter to be measured. A ForceCheck base set with display is needed to display results (order separately).
Sensors are also available in low-force versions. Contact us for further information.
Sets include display, connecting cable, and carrying case. Measuring bars, adapters, and other accessories are ordered separately.
Related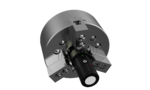 The ForceCheck wireless chuck force gauge is designed to quickly and accurately measure holding force and speed on chucks. Verifying chuck holding force allows manufacturers to improve the repeatability of a manufacturing process by checking actual holding force under dynamic (rotating) conditions, as well as perform critical preventative maintenance checks. Contact us for other clamping diameters and extension rings, as well as 4+ jaw chucks.
Hydraulic tool holders are an excellent ultra-low option with added benefits such as vibration damping and ease of use. One of the major challenges with hydraulic holders is determining if they are still functioning correctly over time. Failure of the hydaulic holding mechanism is often not apparent until cutter slippage occurs, potentially causing damage to both the holder and a scrapped workpiece. ForceCheck hydraulic tool holder force gauges provide a quick and reliable way to verify a tool holder is still operating correctly. The sensor measures the force at the center of the hydraulic sleeve. Using the gauge is as easy as inserting the sensor in the hydraulic holder. Once the actuation piston compresses the hydraulic fluid in the expansion sleeve, the resulting force is shown on a handheld digital display. The measured force can be compared to a new or known-good hydraulic tool holder.