495.250
ForceCheck Hydraulic Tool Holder Force Gauges
Hydraulic tool holders are an excellent ultra-low option with added benefits such as vibration damping and ease of use. One of the major challenges with hydraulic holders is determining if they are still functioning correctly over time. Failure of the hydaulic holding mechanism is often not apparent until cutter slippage occurs, potentially causing damage to both the holder and a scrapped workpiece.

ForceCheck hydraulic tool holder force gauges provide a quick and reliable way to verify a tool holder is still operating correctly. The sensor measures the force at the center of the hydraulic sleeve.

Using the gauge is as easy as inserting the sensor in the hydraulic holder. Once the actuation piston compresses the hydraulic fluid in the expansion sleeve, the resulting force is shown on a handheld digital display. The measured force can be compared to a new or known-good hydraulic tool holder.
A ForceCheck base set is required to use a sensor.

Sensors are available for most common hydraulic holder sizes. So that we can ensure correct functionality, please let us know the manufacturer and model hydraulic holder you plan to use (e.g. Schunk, Kennametal, etc.)

Metric: 8, 10, 12, 14, 16, 18, 20, 25, 32 mm
Inch: 3/8, 1/2, 5/8, 3/4, 1, 1-1/4 inch

Custom sizes also available upon request.

Sets include display, connecting cable, and carrying case. Measuring bars, adapters, and other accessories are ordered separately.
Download PDF for worksheet.
Related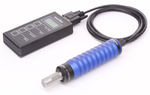 ForceCheck collet force gauges provide a quick and easy way to check force on collet workholding systems.