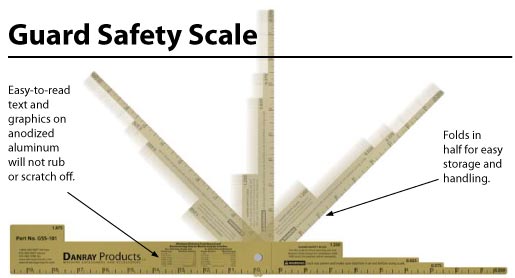 Product Information
When a barrier guard is used for safeguarding on a machine, it must be designed, constructed, applied, and adjusted so that people cannot reach over, under, around, or through the barrier guard and reach the hazard. However, the panels inside the framework of most barrier guards have openings in them because they are made out of materials such as wire mesh, expanded metal, rods, or hairpins. And these openings may or may not be adjustable. In any case, when barrier guards have openings in them, the openings must be checked for safety compliance. In North America, ANSI (American National Standards Institute) and CSA (Canadian Standards Association) standards are used for reference when determining maximum guard openings and minimum mounting distances of barrier guards so that body parts such as hands and fingers cannot reach the hazard area.
Although an original study and drawings for machine guarding were created in the 1940s, it wasn't until the mid-1990s that a comparison of newer studies to the original drawings had been done. In 1995, a study entitled "A Review of Machine-Guarding Recommendations" was published in Applied Ergonomics (Vol. 26, No. 2, pp. 141–145); Donald R. Vaillancourt and Stover H. Snook of the Liberty Mutual Research Center for Safety and Health conducted this study. The purpose of their investigation was to determine whether the original drawings from the 1940s were still consistent with the data in the modern studies, especially relating to women and minorities, who are now much more prevalent in the American workplace. In their study, Vaillancourt and Snook compared data from six anthropometric surveys to the original machine-guarding recommendations.
Vaillancourt and Snook found many of the dimensions in the original drawings to be valid. However, they suggested several important modifications. Moreover, several of the dimensions from the original 1940s drawings showed no correlation to body reference points, so Vaillancourt and Snook suggested that they be eliminated.
The drawings from Vaillancourt and Snook's study have been adopted and are used in several current ANSI B11-series safety standards for machine tools as well as in the ANSI/RIA R15.06 safety standard for industrial robots and robot systems. The data from the study is also used by Canadian safety standards CSA Z142 for power presses, CSA Z434 for robots, and CSA Z432 for safeguarding of machinery.
Since the Vaillancourt and Snook drawings have been adopted and are used by the most current and up-to-date North American safety standards, we have created a new guard safety scale that can be used to check the openings for compliance with these standards. The gold-colored, folding scale has English units on one side and metric units on the other. It is made out of anodized aluminum and has easy-to-read text and graphics that will not rub or scratch off. It can be used during the design, installation, and inspection of barrier guards to make sure they comply with applicable machine safety standards.
Guard Safety Scale Ordering Information
GSS-101: Guard Safety Scale