410.145
High Precision HSK Gauge Masters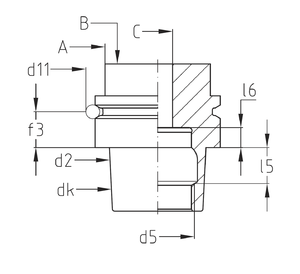 Enlarge Image
High Precision Gauge Master Diagram
To check the extremely small tolerances required by the DIN and ISO
standards for HSK tool holders.
Masters include a certificate of accuracy and actual dimensions for:

d2: Large taper diameter
dk: Small taper diameter
l5: Gripper cam angle
l6: Ejection face depth
d11: V-Flange
f3: V-Flange

• Gauge masters are made of special stabilized material. All surfaces are coated to resist corrosion.
• Actual dimensions are laser marked on the master.
• A gauge storage box is included with the master.
• Annual re-certification is recommended.
Related