699.100
HSK Coolant Tubes
Available for HSK-A 32, 40, 50, 63, 80, 100, 125, 160
• Coolant tubes are for use with HSK-A, HSK-E, and HSK-F.

• Design meets dimensions of DIN 69893 and ISO 12164-1 and is fully replaceable with other coolant tubes.

• Coolant tubes are flexible and can easily move into the proper position for smooth contact. For example, for HSK-A 63 tubes, only 17 N force is required to deflect the tube one degree.

• Coating reduces friction and seal wear.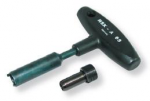 Available for HSK-A 32, 40, 50, 63, 80, 100, 125, 160
Threaded to fit HSK toolholders. Ideal for closing or sealing-off coolant-through on HSK tools, such as gauges or no-coolant tools.
Related