Lathe Turret Alignment Tools
Lathe turret alignment bar for VDI interface. Used for both testing concentricity of the interface as well as center alignment and adjustment on a lathe. Made to DIN 69880 standard. 465.V50.59767 is a special configuration used on certain Mazak machines. Contact us for further information. Contact us for other sizes or special requirements/configurations.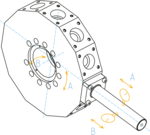 Lathe turret test bars provide an easy way to verify turret perpendicularity. Bars are installed in the turret like a standard tool. Test bars have an accuracy of 0.003mm (0.0001 inch) and include a carrying case and certificate.
Details