440.100
HSK Tool Changer Alignment Gauges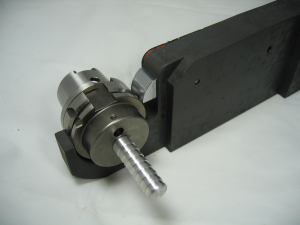 Enlarge Image
Inside tool changer arm
Available for HSK-A 25, 32, 40, 50, 63, 80, 100, 125, and 160. Includes padded storage case.
Tool changer alignment gauges verify proper alignment between the tool changer spindle. Improper alignment can result in abnormal wear on the spindle interface, tool changer, and tool holder. In addition, mis-clamping and dropped tools can also occur.

HSK-F80 gauge can accept pins for Makino Flange-Pin spindles.

For non-standard HSK configurations, please contact us.

HSK taper sets include taper and flange, axial and radial alignment pins, and a padded carrying case.
The tool changer alignment gauge is designed to verify correct alignment of the machine spindle to the Automatic Tool Changer (ATC). See PDF for full instruction manual.
Related