465.100
HSK Spindle Runout Test Arbors
Enlarge Image
Dimensional Drawing HSK Runout Arbor
Available for HSK-A/C/E 32, 40, 50, 65, 80, 100, 125, 160 and HSK-F 40, 50, 63, 80, 100, 125, 160
• Maximum runout error 0.003mm / 3 micron / 0.0001 inch.

• Carrying cases are not included. Visit www.tac.us/runoutcases for available case styles (Data Sheet 465.006).

• A certificate of accuracy is included. Traceable certificates available; contact us for details.

• Contact us for other lengths, tapers, and other special requirements.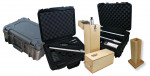 Whether your gauges need to be transported on a frequent basis, or need to be stored in one area for a period of time, we can offer a reliable solution.
One of the leading causes of tool breakage, part finish issues, tolerance control, and machine registration issues is excessive spindle runout.
Related